"Replace plastic bags with cloth bags"- PM does Swachhta ki Baat in #MannKiBaat
~Mann Ki Baat completes its centenary episode
~Indore has created a special identity in cleanliness- 80th Episode of #MannKiBaat
"Swachh Bharat Abhiyan has changed the meaning of public participation in our country. If something related to cleanliness takes place anywhere in the country people certainly inform me about it." ~PM Narendra Modi in Mann Ki Baat, 26th Feb., 2023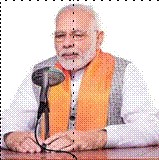 The 98th episode of Mann Ki Baat was focused on waste to wealth where PM highlighted the contributions of Kamala Moharana from Kendrapada district of Odisha, who runs a self-help group. He said, "The women of this group craft many things like baskets and mobile stands from milk pouches and other plastic packing materials. This is becoming a good source of income for them along with ensuring cleanliness. If we resolve, we can make a huge contribution towards a clean India. At least we all should take a pledge to replace plastic bags with cloth bags. You will see, how much satisfaction your resolution will give you, and also inspire other people."
Prime Minister Narendra Modi's flagship address, Mann Ki Baat, first aired on October 3, 2014, will turn 100 on April 30, 2023. During these 99 episodes, PM Modi has mentioned over 700 Indians and around 300 organizations, all of whom are doing exceptional work. The radio program not just reflected the mood of the nation but brought to light citizen action for positive change.
Speaking of Indore in the 80th episode, Hon'ble PM said, "We know very well that whenever the topic of Swachh Bharat Abhiyan comes up, Indore has created a special identity of its own in cleanliness. Indore has remained at number one in 'Swachh Bharat Ranking' for many years." Highlighting the various initiatives from all corners of the country PM mentioned, "During the Ganpati immersion in Kakinada, people were told about the harm caused by plastic. Within three days in Odisha, more than 20 thousand school students took a pledge to inspire fellow citizens for the Swachh Sagar – Surakshit Sagar initiative."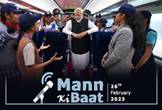 Swachh Bharat Mission is very close to the Hon'ble PM's heart and it has often found a special mention in Mann Ki Baat episodes. Whether it was the Yuva Swachhta Evam Janseva Samiti or the Youth for Parivartan, whether it was Kamala Moharana from Kendrapada or Manoj Bainjwal from Rudra Prayag, no contribution has gone unheard. Highlighting the contributions of the youth in Haryana's Bhiwani, the PM mentioned in his Mann Ki Baat episode on 26th Feb., 2023, that a cleanliness campaign by the youth of Bhiwani, Haryana caught his attention, who decided to make his city exemplary in terms of cleanliness.
They formed an organization called Yuva Swachhta Evam Janseva Samiti in order to run cleanliness drives in the city that have cleared tons of garbage from different areas of the city.
Pressing upon E-Waste, PM pointed out in the 97th episode that, E-Waste if not disposed of properly, can harm the environment. But, if done carefully, it can become a great force in the Circular Economy of Recycle and Reuse. Talking about कचरे से कंचन, Hon'ble PM mentioned quite a few E-Waste recyclers. Be it E-Parisaraa of Bengaluru who developed an indigenous technology for extracting precious metals from Printed Circuit Boards or Ecoreco from Mumbai who developed a system to collect E-Waste through a Mobile App, or be it Kabadiwala, all have found mentions in PM's popular radio show. Lauding their efforts, PM said that, "All of them are helping to make India a Global Recycling Hub."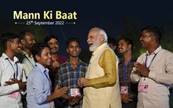 Pleased with the efforts and initiatives of various self-help groups, NGOs and other committees, in his 93rd episode of the show, saw PM's narration over Youth for Parivartan from Bangalore and कबाड़ से जगुाड़ campaign by Meerut and other initiatives for protecting the environment.
Applauding Jan Andolan in urban swachhata, PM mentioned in one of the episodes of Mann Ki Baat, "Swachh Bharat Mission has become firmly rooted in the mind of every Indian today. Since the inception of this mass movement in the year 2014, to take it to new heights, many unique efforts have been made by the people. In the society as well as in the villages, cities and even in the offices; this campaign is proving useful in every way."
As Mann Ki Baat turns 100 on 30th April, 2023, the invigorating stories of swachhata warriors continue to inspire and motivate all to walk एक कदम स्वचछता की ओर.