Commemorating one year of successful implementation of Project Cheetah in India
17th September, 2022 marked a history in the arena of wildlife conservation in India with the World's fastest land animal finally back to India after almost 75 years of their local extinction from the country. In the first ever intercontinental wildlife translocation and decades after extinction of their Asiatic counterparts in India, eight African cheetahs (Acinonyx jubatus jubatus) from Namibia translocated into Kuno National Park in Madhya Pradesh by the Prime Minister Shri Narendra Modi. Subsequently, twelve cheetahs from South Africa were also translocated and released in Kuno National Park in February, 2023. These cheetahs represent a big feather in India's cap for restoring natural treasures. The entire project was implemented under meticulous supervision of the expert team consisting of Government officials, Scientists, Wildlife Biologists and Veterinarians belonging to Namibia, South Africa and India.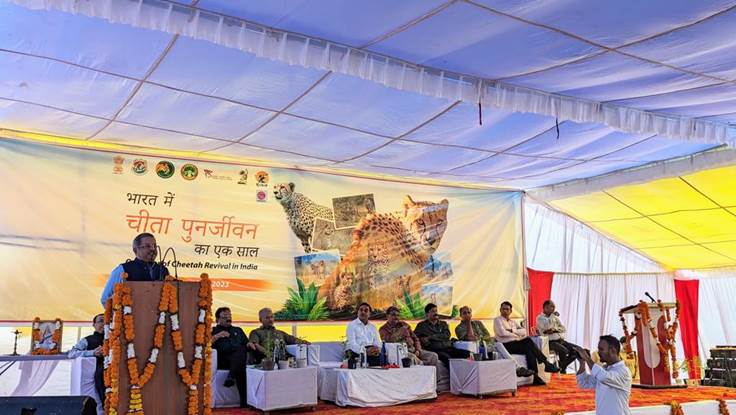 Out of the above 6 criteria given in Action plan for assessing the short term success, the project has already met four criteria namely: 50% survival of introduced cheetahs, establishment of home ranges, birth of cubs in Kuno and the project has contributed revenue to the local communities directly through engagement of cheetah trackers and indirectly by way of appreciation of land value in the surrounding areas of Kuno.
The challenging inter-continental, wild to wild, Cheetah translocation by air, from Namibia and South Africa to India is first ever such effort undertaken in the world to rectify the ecologically wrong done in the past. Normally intercontinental long distance cheetah translocations have inherent risk of mortalities, however, 8 Cheetahs from Namibia and 12 Cheetahs from South Africa were successfully translocated to the Kuno National Park without any mortality.
Most of the Cheetahs are adapting well to the Indian conditions and showing normal qualities like hunting, exploring the landscape, protecting their kill, avoiding/chasing other carnivores like leopards & hyena, establishing own territory, internecine fights, courtship and mating & no negative interactions with human beings.
One female Cheetah has given birth to cubs on the Indian soil after 75 years. One surviving cub is now 6 months old and doing well, showing normal growth pattern. So far no cheetah has died due to unnatural causes like poaching, hunting, snaring, accident, poisoning, and retaliatory killing. This has been possible due to huge community support from the local villages.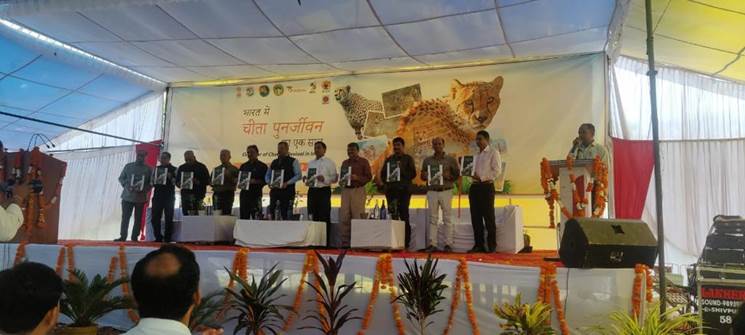 The Project Cheetah has mobilized the local community and provided them with livelihood options by direct and indirect employment. The community support is overwhelming. Being a long term project, it is planned to bring 12-14 cheetahs from South Africa/Namibia/ other African Countries, annually for the next 5 years and after that, as and when required.
Other alternative sites for cheetah introductions are being prepared at Gandhi Sagar Wildlife Sanctuary and also at Nauradehi Wildlife Sanctuary. Quarantine and acclimatization enclosures are under construction at Gandhi Sagar WLS and the site is expected to be ready by the year end. After evaluation of the site, the next batch of cheetah will be planned to bring at Gandhi Sagar WLS. Conservation breeding of Cheetah Centre, Cheetah Research Centre, Interpretation Centre, Cheetah Management Training Centre and Cheetah Safari are being planned.
The two Namibian female cheetah, with wild origin but reared in captivity, are showing signs of wild behaviour due to re-wilding efforts. After some more evaluation and monitoring they may be released in the wild.
It is a challenging project and the early indications are encouraging. The reintroduction of cheetahs will bring much-needed focus to the conservation of the country's dry grasslands and will also generate job opportunities for local communities. The success of this project will open up possibilities for rewilding initiatives worldwide. It stands as a unique endeavor, being one of the few projects to reintroduce a lost species through intercontinental efforts.
In order to commemorate one year of successful implementation of Project Cheetah in India, an event was organized today at Sesaipura Forest Complex, Kuno National Park, Madhya Pradesh. The program was attended by officials from the Ministry of Environment and Forest and Climate Change (MoEFCC), NTCA and Madhya Pradesh Forest Department.
At the onset, the dignitaries visited the walk through exhibition and interacted with Cheetah Mitras and further encouraged them for their commendable efforts in awareness campaigns, protection and intelligence gathering for cheetah conservation during past one year. The event was inaugurated with lighting of lamps by the dignitaries.
In his welcome address, Dr S P Yadav, ADG (PT&PE) & MS, NTCA welcomed all guests and provided a detailed update on Project Cheetah during past one year. He briefed about how leanings from best practices adopted for India's successful tiger conservation have been imbibed for implementing Project Cheetah. He mentioned about the benefits Project Cheetah likely to gain after successful implementation of International Big Cat Alliance by Government of India. He congratulated all stakeholders for successful accomplishment of one year of Project Cheetah.
This followed with release of Annual Report on successful implementation of Project Cheetah. The Hero MotoCorps under CSR initiatives has donated 50 motorbikes for enhanced mobility of frontline staff in Kuno for monitoring of cheetah. The dignitaries present on the occasion flagged off the motorcycles handed over to the frontline staff. A short film on achievements of Project Cheetah during last one year was screened.
Subsequently, in their addresses by PCCF& Head of Forest Forces, Additional Chief Secretary (Forest), Government of Madhya Pradesh; they briefed about the achievements of the Project Cheetah during last one year in terms of monitoring of cheetah and other wildlife in Kuno National Park, efforts being taken up for management of conflict, livelihood opportunities and community engagement to foster greater tolerance. They also highlighted formidable challenges likely to be faced by the Project in near future till the cheetah population establishes their territories.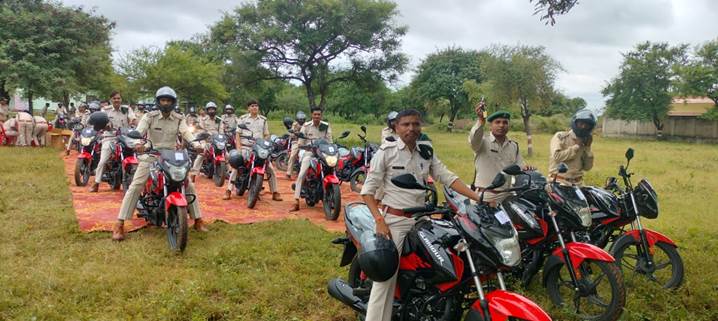 In his keynote address, Shri C P Goyal, DGF & SS, MoEFCC emphasised about Project Cheetah as a promise to restore balance, protect biodiversity, and nurture our ecosystems and a testament to our commitment to a sustainable future. He complimented the collaborations made with Governments of Namibia and South Africa for successful accomplishment of Project Cheetah in India. He also emphasized on implementation of the Project Cheetah as a win-win situation for both wildlife and local communities fortifying our Prime Minister's mantra of Jan Bhagidari, essence of Mission LiFE in adopting a lifestyle that respects and nurtures our planet and "One Earth" imbibed under G20 Presidency of India.
Project Cheetah has achieved most of the bench mark & criteria set for the first year and is on the right track. There has been great learning so far which is helping in successful implementation of the Project. The PCCF (Wildlife) & CWLW, Madhya Pradesh conveyed vote of thanks to all the stakeholders and participants.