Jyotiraditya M Scindia inaugurates Utkela Airport, and direct flight between Utkela and Bhubaneshwar
It has been developed as a regional airport under the UDAN scheme
Minister of Civil Aviation, Shri Jyotiraditya M Scindia along with Gen. Vijay Kumar Singh (Rtd.) MoS, Ministry of Civil Aviation inaugurated Utkela Airport and a direct flight between Utkela and Bhubaneshwar today. The event was conducted through video conferencing.
Utkela airport is owned by the Government of Odisha. It has been developed as a regional airport under the UDAN scheme of the Ministry of Civil Aviation, Government of India at a cost of Rs. 31.07 Cr. Utkela airport has a runway of length 917 meters. (2,995 ft.) with a width of 30 meters. With the addition of Utkela Airport, Odisha will now have five airports.
The newly inaugurated Utkela – Bhubaneshwar – Utkela flight route will enhance regional air connectivity and play an important role in the economic development of the region. IndiaOne, will be running the flights on this route from 31st August onwards. The operator will be utilizing 9-seater Cessna C-208 aircraft sanctioned under the UDAN scheme. This flight will operate according to the following schedule:

In his inaugural address, Shri Jyotiraditya M Scindia said thatUtkela to Bhubaneswar air connectivity will reduce the time taken to travel by road which is nearly 8 hours. Now with Utkela-Bhubaneswar flight, the distance could be covered in one hour and twenty minutes. Elaborating further, the Minister said that this will be a new beginning for Kalahandi region as economic activities will come up and generate a range of employment opportunities. Shri Scindia added that central government is working in close cooperation with the Odisha government developing the civil aviation infrastructure in the state.
Union Minister of State for Road Transport and Highways and Civil Aviation Gen Dr V K Singh (Retd)said that the central government spent around Rs 31 Crore in the redevelopment of the Utkela airport. He also added that now Kalahandi will be connected to Bhubaneswar and other cities in the state which will help in the development of the region.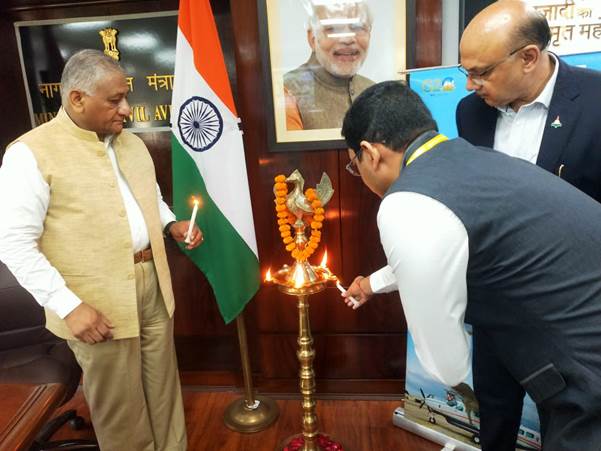 The event was graced by Shri Sujit Kumar, MP Rajya Sabha, Shri Basanta Kumar Panda, MP Lok Sabha, Smt. Tukuni Sahu, Minister, Water Resources and Commerce & Transport, Govt. of Odisha. Shri Rajiv Bansal, Secretary Ministry of Civil Aviation,Smt Usha Padhee, Principal Secretary, Govt of Odisha, and CEO of India One, Shri Arun Kumar Singh were also present.