R K Singh Chairs 14th Clean Energy Ministerial (CEM) and 8th Mission Innovation (MI) Meeting
US Energy Secretary Commends India for Advancing Energy Transition
Brazil to Host Next CEM/MI Ministerial Meeting and G20 Presidency in 2024 to Continue Push for Accelerating Clean Energy and Climate Action
The Ministerial Meeting of the ongoing 14th Clean Energy Ministerial and 8th Mission Innovation Meeting got off to a start, in Goa today, July 21, 2023, under the chairpersonship of the Union Minister for Power and New & Renewable Energy, Government of India, Shri R. K. Singh. Ministers of more than 30 participating countries, heads of delegations and representatives of international organizations were present for the inaugural session of the Ministerial. The session can be watched here.https://www.youtube.com/embed/M9wE4YT1fno
Addressing the Ministerial, the Union Minister for Power and New & Renewable Energy discussed barriers on the pathway to energy transition and possible ways to overcome them. "Climate change is a concern for all and each one should play a positive role to combat it. India's per capita carbon emissions is around 2.29 tons while the world per capita average is around 6.3 tons. It is the simple lifestyle of the people of our nation which is the reason for low per capita emissions. We need to look at challenges in the path of energy transition and find ways to move ahead in order to create a sustainable future. India has focused on cutting down fossil fuel consumption and increasing renewable energy generation. We have set targets to meet 50% of our energy requirements from non-fossil sources by the year 2030. India will achieve more than its target of generating 500 GW renewable energy by 2030."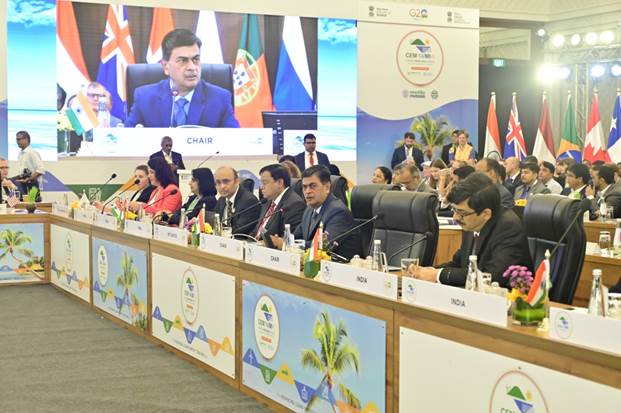 The Union Minister informed the Ministerial that India has Perform, Achieve and Trade (PAT) scheme for industries, which encourages them to implement sustainable practices, resulting in 105 million tons of emission reduction per annum. "We are exploring different renewable sources including solar, wind, and hydrogen to accelerate energy transition. We have also focused on energy efficiency in the lighting sector, with schemes such as UJALA, star rating, and LED street lights; these have resulted in 278 million tons of emissions reductions per annum."
Member, NITI Aayog, Dr. Vijay Kumar Saraswat highlighted the need to change the energy mix away from fossil fuels in order to ensure a sustainable future for humanity. "We have gathered here to embark on a transformative journey, one that holds the potential to shape the future of collaborative efforts towards global clean energy transition and sustainability. We need to ensure sustainable energy for humanity in order to build a sustainable future. We have to work on reducing our reliance on fossil fuels by increasing production of non-fossil fuels or renewable sources. However, today, the energy mix is dominated by fossil fuels and we have to change this scenario."
Secretary of Energy, United States of America, Ms. Jennifer M. Granholm expressed deep appreciation for India's leadership in the global energy transition. She commended the collaborative efforts and partnerships forged among nations to accelerate the adoption of clean energy solutions and to address the pressing challenge of climate change. She acknowledged India's prominent position at the forefront of the energy transition, recognizing the significant strides the country has made in advancing clean energy initiatives. The Energy Secretary highlighted the critical importance of the active deployment of clean energy solutions by all countries, businesses, cities, and institutions, in order to achieve ambitious goals. "In order to achieve the goal of Net Zero, use of emerging technologies is paramount. Sharing a common goal of achieving it and being united is the only way to achieve it."
Head of Secretariat, Mission Innovation, Dr. Eleanor Webster underlined the role of leadership in responding to the climate crisis. "Leadership in the middle of the climate change crisis is not a responsibility, it is a core action. Mission Innovation is about implementing policies to lead by example. Cooperation at global level is necessary to realize the magnitude of the challenge."
Minister of Mines and Energy of Brazil, Mr. Alexandre Silveira de Oliveira announced that Brazil is set to take on the responsibility of hosting MI Ministerial meeting, as it will be hosting the MI Ministerial Meeting alongside its holding of the G20 presidency next year.
In a resolute move towards accelerating clean energy and addressing climate change, the Energy Minister of Brazil highlighted the country's commitment to leading the way in the global transition towards sustainable and renewable energy sources. Brazil's dynamic approach towards clean energy solutions has positioned it as a prominent player in the fight against climate change, said the Minister. "As India passes the role of host of CEM / MI to Brazil, the legacy of the CEM-14 / MI-8 forum's achievements in advancing clean energy and sustainability will serve as a solid foundation", said Alexandre Silveira, expressing gratitude to India for its contribution.
Dr. Fatih Birol, Executive Director, International Energy Agency (IEA); Francesco La Camera, Director General, International Renewable Energy Agency (IRENA); Ms. Damilola Ogunbiyi, CEO and Special Representative of the UN Secretary General for Sustainable Energy for All (SEforAll) and Co-Chair of UN Energy; and Dr. Ajay Mathur, Director General, International Solar Alliance (ISA) also shared their perspectives at the opening session of the Clean Energy Ministerial.
The Clean Energy Ministerial (CEM) is a high-level global forum of 29 countries, to promote policies and programmes that advance clean energy technology, to share lessons learned and best practices, and to encourage the transition to a global clean energy economy.
Mission Innovation (MI) is a global initiative of 23 Countries and the European Commission (on behalf of the European Union) to accelerate Clean Energy revolution and progress towards the Paris Agreement goals and pathways to net zero.
The website of CEM / MI can be accessed here: https://www.cem-mi-india.org/.