Chandrayaan-3 will open up new moon vistas for the world, says Dr Jitendra Singh
The whole world looks up to Chandrayaan 3 with great anticipation, expectation and hope, and at the same time waits for it to uncover many more new features and mysteries of the Moon and the universe: Dr Jitendra Singh
"Chandrayaan-3 mission signals March to the Moon one step closer": Dr Jitendra Singh
Union Minister of State (Independent Charge) for Science and Technology, MoS PMO, Department of Atomic Energy and Department of Space and MoS Personnel, Public Grievances and Pensions, Dr Jitendra Singh today said that Chandrayaan-3 will open up new Moon vistas for the world.
In an exclusive interview with ET (Economic Times) Governance, Dr Jitendra Singh said that India's earlier mission, Chandrayaan-1 had thrown up new light on various aspects of the moon as it was Chandrayaan-1 which brought before the world for the first time the evidence of the presence of water on the surface of the moon. Now, the whole world looks up to Chandrayaan 3 with great anticipation, expectation and hope, and at the same time waits for it to uncover many more new features and mysteries of the Moon and the universe, he said.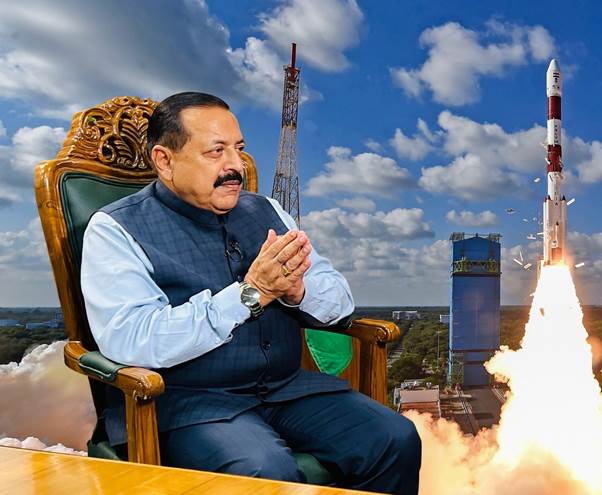 Dr Jitendra Singh said that Chandrayaan-3 mission signals March to the Moon one step closer and also demonstrates the fact that India is not lagging behind other countries so far as exploration of the moon is concerned. He said, the unique feature of this mission is that it will not only observe the Moon from the Moon but will also see Earth from the Moon, thus making India part of the world's elite club of three or four nations.
Dr Jitendra Singh also pointed out that during the recent visit of Prime Minister Narendra Modi to the United States, it became clear that America treats India as an equal partner and collaborator in space exploration. He said NASA is today soliciting India's astronauts and the Artemis Accord, where India is also one of the signatories, is also proof of India's great Space march.
Dr Jitendra Singh said that India's space technology is not only confined to launching rockets, but has great implications for sectoral development. Dr Jitendra Singh said India has demonstrated the application potential of space technology during 6 decades of Indian space programme. He said, today, space has touched all walks of human life, including science & technology, telecommunication, agriculture, education, health, rural development, disaster warning & mitigation, studying climate change, navigation, defence & governance to name a few.
Dr Jitendra Singh said in the next 25 years of Amrit Kaal, India's ascent has begun through Space and the Space economy will be an important pillar of overall economic development in future. Out of 424 foreign satellites launched till date by India, 389 were launched in the last nine years of the government headed by Prime Minister Narendra Modi. Further, out of 174 million US dollars earned, 157 million came in the last nine years and similarly out of 256 million Euros earned so far, 223 million came during the 9 years of the Government led by PM Modi.
In response to a question, Dr Jitendra Singh said that Space technology has become a medium of instruction and having contributed significantly in disciplines like geophysics, telemedicine. He said, today education is also being acquired through Space technology via wifi.
Lauding the vision of PM Modi for unlocking the space sector, he said integration is the new Mantra as the days of working in silos is over. He said, for greater results, public private partnership is imperative, not only at the national level but also at the international level.