Ashwini Kumar Choubey calls for adopting Lifestyle for Environment to save earth from natural calamities and disasters
The Ministry of Environment, Forest & Climate Change (MoEFCC) organised an event on Mission LiFE as part of Save Wetlands today in Buxar, Bihar. The event is in continuation to the Save Wetlands campaign organised at Gokul Jalashay, Buxar on June 08, 2023. The event was organised through Ministry's Environmental Information, Awareness, Capacity Building and Livelihood Programme (EIACP) Centre at ADRI, Patna.
Minister of State, Ministry of Environment, Forest and Climate Shri Ashwini Kumar Choubey graced the day-long event which started with LiFEathon Run followed by inauguration of an Exhibition on LiFE and felicitation of winners of LiFEathon from boys and girls in three different categories of 12 kms, 7 kms and 5 kms respectively. Dr. Sujit Kumar Bajpayee, Joint Secretary, MoEFCC, Sh. Surendra Singh, Member Secretary State Wetland Authority (SWA), Shri Chandrashekar Rao, Member Secretary Bihar SPCB and Sh. Rajkumar M. and DFO Bhojpur were also present on the occasion.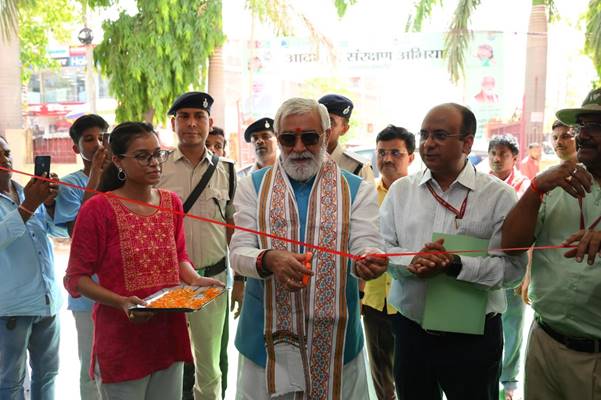 Around 550 boys and girls from different parts of Bihar registered for LiFEathon Run and successfully concluded the unique event aimed at promoting environmental awareness and conservation efforts, with a special focus on Mission LiFE and wetlands. Similarly, the exhibition on LiFE also saw participation from EIACP centres located in six states namely Assam, Bihar, Jharkhand, Sikkim, Uttrakhand and Delhi who displayed the products developed as part of Green Skill Development Programme (GSDP) of Ministry. Besides above, ZSI, BSPCB, BIS, Bihar JEEVIKA and Bhojpur Forest Division also put up their stalls. After opening the exhibition, Shri Choubey took a detailed tour to each and every stall and appreciated the participants for taking real action on the Mission LiFE launched by The Prime Minister Shri Narendra Modi. The exhibition provided an opportunity to the attendees and visitors to explore innovative solutions, eco-friendly products such as bamboo handicrafts, water bottles made from bamboo, etc.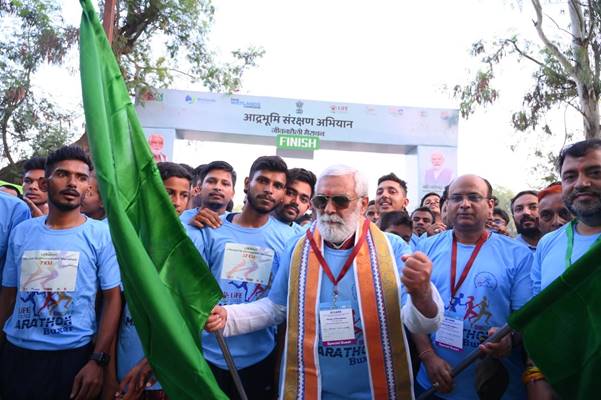 Adding a vibrant touch to the event, a captivating nukkad natak engaged attention of the audience with a powerful performance, raising awareness about the significance of wetlands and the urgent need to protect and preserve them.
Speaking on the occasion Shri Choubey said that wetlands are important for many reasons. He also mentioned about cultural, historical and social importance of these wetlands and appealed the participants to work unitedly to save these wetlands. He also mentioned that how numbers of cyclones are increasing and recalled how the Kedarnath tragedy took away many lives including his near and dear ones on this day 10 years ago and paid his heartfelt condolences to the families who had lost their family members in that unforgettable incident. Sh. Choubey also stressed that Prakriti and Pragati should go hand in hand and effort of each and every individual is important in saving the earth from such calamities. He appreciated the youth of Buxar who turned out in large numbers for LiFEathon early in the morning and named them as Paryavaran Prahari. He also expressed his happiness over the participation of so many young girls in the LiFEathon event and he also expressed his hope that these young participants will sensitise other people of Buxar also for the cause of Mission LiFE and wetland conservation.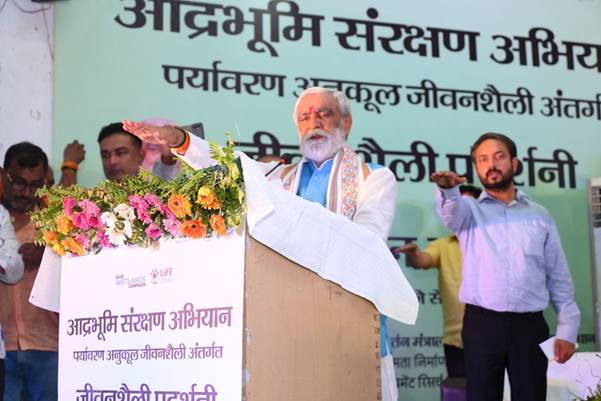 Dr. Sujit Kumar Bajpayee, Joint Secretary delivered the Keynote Address, highlighting the significance of wetlands, NPCA scheme and Amrit Dharohar programme. Dr. Bajpayee also mentioned that Bihar has number of wetlands which have potential to be designated as Ramsar sites and assured expeditious consideration by Ministry on receipt of proposals for the same from State Save Wetlands campaign.
As part of the LiFE-based refreshment experience, organic and sustainable food options were provided to participants, showcasing the benefits of eco-friendly dietary choices, sustainable food options and responsible consumption. The event concluded with the LiFE pledge administered to all attendees by the Shri Ashwini Kumar Choubey.