Amarnath Yatra marching towards Swachh Teerth
Under the Swachh Bharat Mission Urban 2.0, initiatives are taken to ensure a clean and waste-free environment for the yatris. Robust waste management systems are implemented along with clean sanitation facilities and awareness campaigns promoting cleanliness and responsible waste disposal. These measures have significantly enhanced the cleanliness standards of the Amarnath Yatra, transforming it into an environmentally conscious pilgrimage for devotees.
The floating population witnesses a large number of devotees every year to the holy cave at Amarnath Yatra in South Kashmir between July and August, leads to a considerable amount of waste generation, necessitating effective waste management strategies to maintain the sanctity of the pilgrimage site.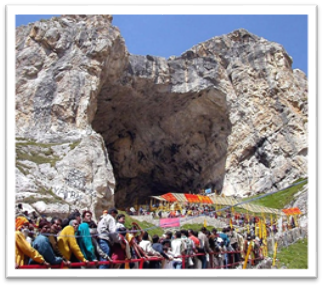 During Amarnath Yatra in 2022, the Urban Local Bodies (ULBs) installed and maintained a total of 127 toilet seats, 119 urinals, and 40 bathing units along the route to improve sanitation. Additionally, the ULBs maintained over 780 toilets installed for the yatra. To achieve 100% waste collection, the ULBs utilized 10 twin compartment vehicles on a daily basis. They also installed 145 twin bins at all camps to facilitate waste segregation.
Designated black dustbins were placed at female toilet facilities for the disposal of sanitary waste. Nearly 150 MT of wet waste, 130 MT of dry waste and 10-12 MT of plastic waste was generated during the yatra last year. To handle the generated waste, the ULBs deployed 14 de-sludging vehicles daily during the Yatra with additional vehicles on standby for emergencies. A total of 2596 KL of septage was successfully desludged and disposed of by the ULBs.
To maintain cleanliness and sanitation, the ULBs deployed 231 sanitation workers in the lodging areas, adjoining roads and other establishments. These workers were provided with appropriate uniforms, PPE kits, gloves, gum boots, masks, and brooms.
As part of the TULIP (The Urban Learning Internship Programme) program, many Swachhagrahis were deployed in the lodging areas during the Yatra. They monitored the overall cleanliness and sanitation, facilitated solid waste collection and segregation, advocated non-use of SUPs, spreading the message of swachhata. Through QR codes on toilets, langars, and camp facilities, the TUILIP interns gathered feedback from yatris. Special selfie points were installed for the yatris. As part of the Amarnath Yatra, several unique activities were undertaken to enhance the pilgrimage experience.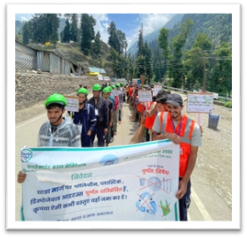 With an aim to ensure efficient waste processing, 9 Solid Waste Management facilities have been inaugurated on May 12, 2023 in 10 ULBs located in Jammu and Kashmir. Notably, three of these ULBs, Qazigund, Sumbal, and Ganderbal fall along the Yatra route. These facilities will process 40 tonnes of waste daily. Each centre has a Material Recovery Facility for dry waste which includes segregation, bailing and shredding facilities. Compost pits are also provided for processing of wet waste.
The preparations for the 2023 Amarnath Yatra involve various additional measures, like acquiring more prefabricated toilets, procuring tools and plants, disinfectants, hiring extra sanitation staff, engaging more Swachhagrahis, pre-yatra sanitation of lodging areas and the yatra route, de-sludging septic tanks, forming sanitation teams and appointing nodal officers among other initiatives. Through the Swachh Amarnath Yatra, the Swachh Bharat Mission Urban 2.0 has not only improved the overall pilgrimage experience but also reinforced the values of cleanliness and hygiene among the devotees.