Paddy Straw Management Workshop identified strategies and solutions for achieving target of zero stubble burning
Cooperative Societies to support SC beneficiaries and replicating successful initiatives: K.A.P. Sinha
Ministry of Agriculture and Farmers' Welfare, Government of India, the state of Punjab and PAU organised workshop on 'Paddy Straw Management and Action Plans' commenced at Punjab Agricultural University, Ludhiana. Senior officers from govt of India and the state agriculture department, KVK, scantiest from PAU, stakeholders in the Central Government, State Governments of Punjab, Haryana, Uttar Pradesh, and NCR of Delhi, State Pollution Control Boards, Indian Council of Agricultural Research, academia, various stakeholder agencies, social groups and NGOs, agricultural machinery manufacturing industries, and biomass industry associations and more than 300 farmers participated in the workshop.
The Chief Guest, Shri K.A.P. Sinha (IAS), Additional Chief Secretary of the Ministry of Agriculture and Farmers' Welfare in the Government of Punjab, highlighted the significance of farming by quoting, "Once in your life you need a doctor, lawyer, policeman, or preacher but every day — three times a day — you need a farmer." He acknowledged the desire to eliminate the practice of paddy straw burning but identified obstacles hindering progress. Further he proposed increasing baler capacity, deploying more machinery in high-burning areas, involving cooperative societies to support SC beneficiaries, and replicating successful initiatives. He expressed his hope for no-burn agriculture to become the norm by the following year.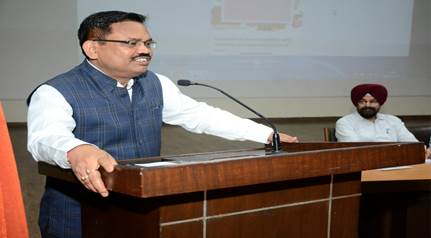 Dr Satbir Singh Gosal, PAU Vice-Chancellor, cautioned that stubble burning emits toxic pollutants which disperse in the surroundings and, eventually, affect the air quality and people's health as well as soil health. He advocated the concept of conservation agriculture which up-cycles paddy straw without producing any waste. He called for synergy among the Department of Agriculture, NGOs, academia, industry and farmers to tackle the menace of paddy straw burning.
Smt. S. Rukmani, Joint Secretary, Department of Agriculture and Farmers' Welfare, GoI, briefed about Central Sector Scheme to support for crop residue management. The scheme provides financial assistance of 50% for farmers to purchase designated machinery and 80% for Cooperative Societies, Farmers Producers Organization (FPOs), and Panchayats to establish Custom Hiring Centres (CHCs). While addressing she emphasized on air pollution and subsidizing machinery. Smt. Rukmani revealed a reduction of 30-40% in paddy straw burning since last year and emphasized the workshop's goal of creating a value-chain plan to utilize paddy straw as a resource and minimize losses for farmers and express her thought on joint action plan for paddy straw management.
Shri Arvind Nautiyal, Member Secretary of the Commission for Air Quality Management (CAQM), New Delhi, underlined the detrimental effects of air pollution on the environment, climate, and human health. He recommended measures such as crop diversification, the DSR method, and promoting basmati varieties as well as short-duration and long straw-generating varieties. ex-situ management through strategic mapping of villages, establishing briquetting/pelleting plants at strategic locations, and developing a supply chain for utilizing straw as fuel in various industries and for biomass power generation, compressed biogas production, bio-ethanol, packaging material etc.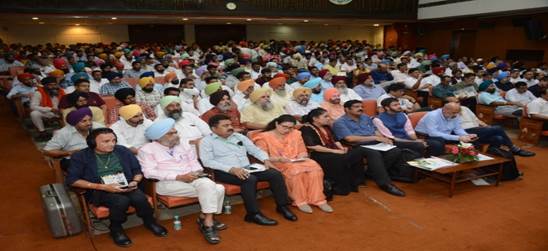 Dr. Ajmer Singh Dhatt, PAU's Director Research, sensitized the gathering and said that efforts being made by PAU to tackle the burning issue of paddy straw management with machines like Happy Seeder and Super Seeder as well as technologies for ex-situ and in-situ straw management. Further he encouraged farmers to adopt this cost-effective, eco-friendly, and water-efficient method to enhance soil health, crop output, and overall yield while reducing input costs. Dr Gurvinder Singh, Director Agriculture and Farmers' Welfare, Punjab talked about the state's paddy straw management strategies and action plans for the 2023 season. Earlier, Dr Gurmeet Singh Buttar, Director Extension of PAU delivered the welcome address while Dr G P S Sodhi, Additional Director of Extension Education proposed the vote of thanks. Dr Vishal Bector, Associate Director (Institution Relations) coordinated the programmme.
During the workshop the officers from Ministry of Power, Ministry of Petroleum and Natural Gas, Ministry of New and Renewable Energy highlighted the initiatives for utilization of biomass and paddy straw such as 'Sustainable Alternative towards Affordable Transportation' (SATAT) promote setting up of CBG projects using biomass as raw material, Oil Marketing Companies are setting up 2G ethanol plants based on various feed stocks including paddy straw in the country,
Ministry of Power has issued revised policy on biomass utilization for power generation through co-firing in coal based power plants which mandates the use of 5 -7% biomass pellets made primarily of agro-residue along with coal in thermal power plants, Central Pollution Control Board (CPCB) has framed guidelines for providing one-time financial assistance for establishment of paddy straw based palletization and torrefaction plants,  MNRE is implementing Biomass Programme with the broader objectives of promoting technologies for optimum use of country's biomass resources and the major recommendations have been summarized by joint secretary DA&FW and Dr. AN Meshram, Deputy commissioner, DA&FW offered vote of thanks.