India so far, 389 satellites launched in last nine years of PM Modi-led govt: Dr. Jitendra Singh
Union Minister Dr. Jitendra Singh says, out of 424 foreign satellites launched till date by India, 389 were launched in the last nine years of the government headed by PM Narendra Modi: India's Space sector is fast gaining a pre-eminent position in the World with successful launch of foreign satellites
Dr Jitendra Singh informed that out of 174 million US dollars earned, 157 million came in the last nine years and similarly out of 256 million Euros, 223 million came during Modi regime alone.
Out of 424 foreign satellites launched till date by India, 389 were launched in the last nine years of the government headed by Prime Minister Narendra Modi. Further, out of 174 million US dollars earned, 157 million came in the last nine years and similarly out of 256 million Euros earned so far, 223 million came during the 9 years of the Modi regime.
This was stated here today by Union Minister of State (Independent Charge) Science & Technology; MoS PMO, Personnel, Public Grievances, Pensions, Atomic Energy and Space Dr. Jitendra Singh today in an exclusive interview with DD News.
The Minister said that India's Space sector is fast gaining a pre-eminent position in the world and the countries which started their Space programmes long before us, today increasingly seek our services and our facility to launch their satellites.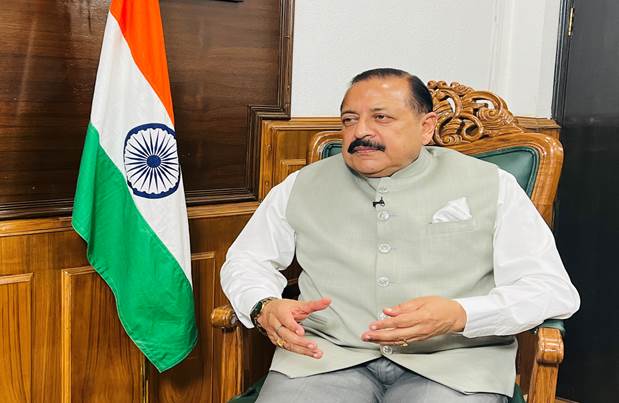 Dr Jitendra Singh said, apart from the core functioning of Rocket launching, India's Space Applications have become a big source of livelihood opportunities through 130 odd Start-ups after opening up of the Space Sector by Modiji in June 2020. Moreover, in Academic field, technical institutes in Trivandrum, Jammu and Agartala have 100 percent placements for students and about 50 percent of them go to NASA to pursue higher studies.
Referring to applications of Space Technology to different sectors like Railways, Highways, Agriculture, Water Mapping, Smart Cities, Telemedicine and Robotic Surgery, which brought 'ease of living' for common man, Dr Jitendra Singh said, Space tech has touched virtually every household in India.
Recently ISRO launched a record 104 satellites aboard PSLV-C37 from Satish Dhawan Space Center, Sriharikota of which 101 belong to international customers, signifying India's increasing presence in the global space industry. Moreover, the indigenous human space mission Gaganyaan is almost ready to carry Indians into space. If successful, India will be the fourth country to have sent a human to space, the other three being the US, Russia and China. he added.
Talking more about India's Start-Up revolution, the Minister said that before 2014, there were just around 350 StartUps, but after Prime Minister Narendra Modi gave the clarion call from the ramparts of the Red Fort in his Independence Day address and rolled out special StartUp scheme in 2016, there has been a quantum jump in StartUps to more than one lakh with more than 100 Unicorns. Similarly, Biotech Startups have grown 100 times in the last 8 years from 52 odd startups in 2014 to 5500 plus in 2022, the Minister said.
Dr Jitendra Singh exhorted the youth of the country that this is the "Best of the Times" for India and they should not become prisoners of their own aspirations. He said, Modi Government in the last nine years has created many new avenues, where youth of the country have the luxury to change their goalposts as there are enough outlets waiting to be seized upon. He said, National Education Policy-2020 is also in tune with "Naya Bharat" and there is a need for change of mindset.