Awareness program organised on the occasion of World Turtle Day under Mission LiFE
World Environment Day (June 5) is an occasion which brings together millions of people across the country for awareness and action for the environment. This year, the Ministry of Environment, Forest and Climate Change, Government of India envisages to celebrate the World Environment Day 2023 with a thrust on the Mission LiFE. The concept of LiFE, i.e., Lifestyle for Environment was introduced by the Hon'ble Prime Minister, at the World Leaders' Summit in Glasgow at the 2021 UNFCCC COP26, when he gave a clarion call to rekindle a global pursuit to adopt sustainable lifestyle and practices. Mass mobilisation across the country on LiFE are being organized in the run-up to the celebrations.
National Museum of Natural History (NMNH)
RMNH,Mysore conducted " Introduction to Insect Life activity" on 23.05.2023 as part of MISSION LiFE (LIFESTYLE FOR ENVIRONMENT) for 40 students/ General visitors and created awareness about these species by describing about their external morphology and habitats.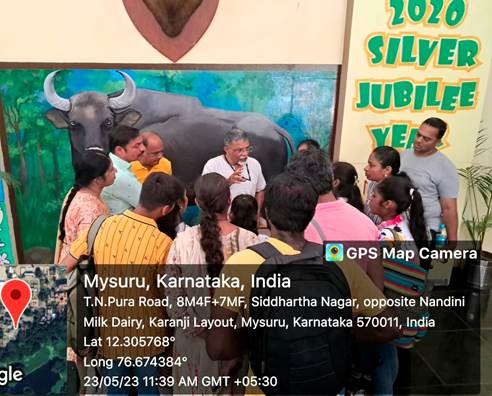 Zoological Survey of India
Zoological Survey of India in collaboration with Zoological Garden, Kolkata organized an awareness program on the occasion of World Turtle Day on 23.05.2023 on Mission LiFE and urged the visitors to spread the message of Mission LiFE. Reached out to 100 visitors. In another inhouse program.Dr Dhriti Banerjee was the Chief Guest in which she addressed an audience of about 200 invited students researchers, scientists, wildlife conservationists and general public on Mission LiFE. An Art competition was organised on the occasion.
For mass mobilisation of Mission LiFE Recreation Club, Zoological Survey of India is organising a "Adopt Health Lifestyle" week starting from 23.05.2023 at ZSI, Kolkata. In this connection the first event,"Blood Donation Camp" was inaugrated by Dr Dhriti Banerjee, Director,ZSI on 23rd May 2023 in which around 40 employees voluntary donated blood.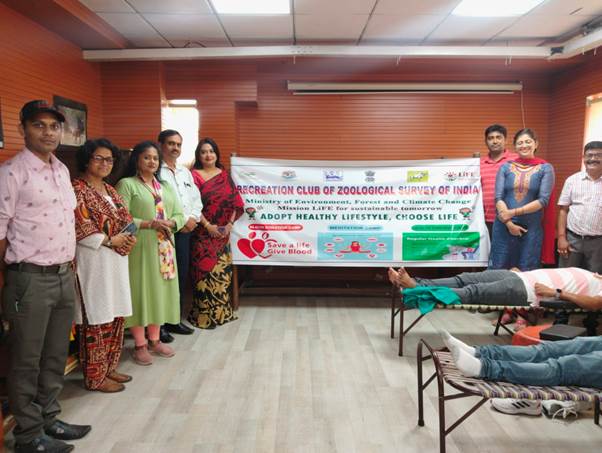 GB Pant National Institute of Himalayan Environment (NIHE)
The Centre for Socio-Economic Development of GB Pant National Institute of Himalayan Environment (NIHE) organized an awareness campaign programme for mushroom cultivation under Mission LiFE theme 'Adopt sustainable food system' and 'Adopt healthy lifestyle'. The programme was attended by total of 30 participants including the faculties, research scholars, supporting staff of institute and stakeholders from SSB, Almora. All the participants took the LiFE pledge to adopt environmentally friendly lifestyle to sustain the natural resources of Indian Himalayan Region.
National Centre for Sustainable Coastal Management (NCSCM)
As part of the mass mobilisation movement for the Lifestyle for the Environment (LiFE) mission, Jan Bhagidari (people's participation) in coastal and marine conservation, the National Centre for Sustainable Coastal Management (NCSCM) organised a beach clean-up and awareness event at Kanyakumari Triveni Sangamam. Kanyakumari is the southernmost point of the Indian mainland and is located at the confluence of the Arabian Sea, the Indian Ocean, and the Bay of Bengal. Due to the presence of well-known sites like the Vivekananda Rock Memorial, the Thiruvalluvar Statue, the Kanyakumari Beach, and sunrises and sunsets, it is a preferred tourist destination renowned for its natural beauty, cultural, historical, and religious importance. This area is a year-round tourist spot due to the prevalence of ecotourism and pilgrimage tourism, drawing more than 20 lakh national and international visitors. More than 300 tourists were educated about the need to use eco-alternative materials and conserve energy, water, and biodiversity by NCSCM scientists during this event. The tourists were sensitised to responsible and sustainable tourism. The local community, beachgoers, street vendors, and food outlet owners were made aware of the negative impacts of litter on the quality and aesthetic value of beaches and other coastal ecosystems. NCSCM scientists also highlighted the importance of the "Clean India, Clean Seas Initiative". Tourists were also made aware of the delicate nature of coastal ecology and asked for their support to maintain the coast's cleanliness and health. Tourists voluntarily participated in a beach cleanliness drive with NCSCM scientists and collected around 50 kg of trash that included plastic bottles, food wrappers, plastic cutlery, glass bottles, cigarette butts, plastic bottle caps, plastic grocery bags, plastic straws, plastic takeaway containers, plastic lids, and thermocol takeaway containers. The waste was segregated into different categories and handed over to the Kanyakumari town panchayat. Near the rocky shore, posters and signs about the LiFE Mission were displayed. A signature campaign and a LiFE Pledge were held to encourage visitors to follow more environmentally friendly lifestyles (Pro-Planet People) and to live in harmony with nature.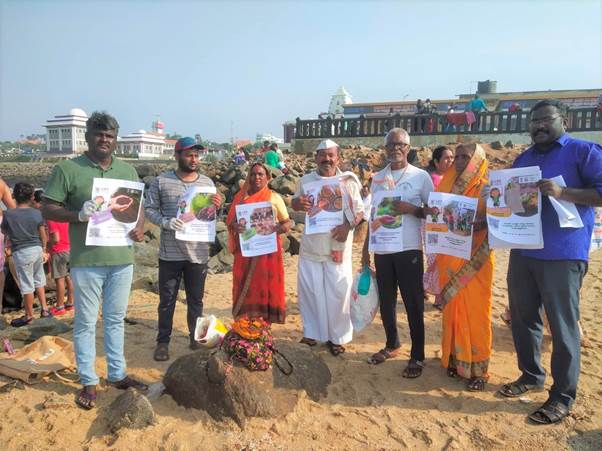 On World Turtle Day, NCSCM partnered with the members of the sea turtle hatchery at Besant Nagar under the Tamil Nadu Forest Department on mass mobilisation of the Lifestyle for Environment (LiFE) movement with a spotlight to spread public awareness and educate coastal fishermen and the local community on the need for sea turtle conservation. More than 300 species of turtles exist on the planet. Several of them are endangered due to pollution, habitat destruction, and predation. These shelled reptilian species are found in diverse environments all around the world and play vital roles in their respective ecosystems. Turtles mainly reside in the sea for a span of about 80 years, whereas tortoises are mainly land dwellers and can survive up to 300 years. World Turtle Day serves as a reminder of the numerous threats that turtles encounter, including habitat destruction, pollution, climate change, predation of turtle hatchlings, and illegal wildlife trade. On World Turtle Day, various events and activities were organised by NCSCM to educate people about the critical need for sea turtle conservation and their nesting sites. World Turtle Day is an opportunity to learn about different species of turtles, their ecological significance, and the steps to be taken to ensure their survival. It emphasises the importance of preserving their habitats, abating pollution (mostly plastic), and combating illegal trade to safeguard the future of these ancient and remarkable creatures. Marine litter poses a great threat to the turtle population, as turtles often mistake plastic bags and other debris as part of their diet in coastal waters, which leads to serious health problems or even death. Beach clean-up initiatives near the area of turtle nesting sites can help protect them from harmful pollution, including plastic resembling turtle feed. The NCSCM scientists sensitised the fishing community about not operating trawler boats for fishing near the turtle nesting sites to prevent entangling and injuring (e.g., clipping off flippers) turtles in the trawling nets and encouraged the use of Turtle Excluder Devices (TEDs) to exclude turtles from getting captured and the retrieval of ghost nets.
Tamil Nadu has a broad coastline along the Bay of Bengal, providing crucial nesting grounds for several species of sea turtles. Some of the sea turtle conservation efforts undertaken in Tamil Nadu, such as the establishment of the Gulf of Mannar Marine National Park, regular monitoring of nesting beaches, etc., have contributed to the conservation of turtles and their habitats. Poaching is a significant threat to turtle populations, as their eggs, meat, and shells have commercial value. To combat this, anti-poaching efforts have been strengthened by deploying trained personnel. Turtle egg protection measures and the establishment of hatcheries have been suggested for the highly vulnerable turtle breeding sites, which are susceptible to disturbances, poaching, and predation. NCSCM conducted public awareness campaigns and educational programmes to engage local communities, fishermen, students, and tourists. These initiatives focused on highlighting the ecological importance of turtles, their conservation status, not indulging in using bright flashlights during the breeding season. In this campaign, the importance and need for sea turtle conservation were highlighted, for the prevention of baby turtles falling prey to birds and stray dogs. Participants took the LiFE pledge to safeguard the environment, avoid single-use plastics, practise responsible tourism, and conserve marine biodiversity. Placards, posters, and LiFE mascots were displayed on the beach as part of this event. NCSCM scientists explained the importance of Mission LiFE to participants for coastal and marine biodiversity conservation.
As part of the Lifestyles for Environment (LiFE) mass mobilisation movement, NCSCM organised an awareness programme for students of Anna University, Chennai. The event sensitised the student community to their environment and emphasised the need to live in harmony with nature in a holistic and understandable way. The event was attended by approximately 150 students and offered a variety of learning experiences on various topics such as reducing single-use plastics, using eco-friendly alternatives, and protecting the oceans. Lifestyles for the Environment (LiFE) awareness is a great initiative to educate students about the importance of sustainable living and its positive impact on the environment. NCSCM scientists provided students with a basic understanding of environmental issues such as climate change, pollution, deforestation, and resource depletion. The event highlighted the impact of these issues on ecosystems, wildlife, and human well-being. In addition, it encouraged students to practice responsible consumption through reduction, reuse, and recycling. The students were encouraged to use eco-friendly products and alternatives to disposable products. The importance of energy-efficient practices, conservation of water, and reducing the carbon footprint was explained to the students. NCSCM scientists sensitised students on the importance of good waste management by encouraging recycling of paper, plastic, glass, and metal, composting organic waste, and educating them on the harmful effects of litter and the importance of keeping the environment clean. Students were encouraged to use eco-friendly modes of transportation such as walking, cycling, and public transport whenever possible. The environmental benefits of reducing reliance on private vehicles and the impact of transportation emissions on air quality and climate change were discussed. As the students were primarily from engineering backgrounds, they were enlightened to develop eco-friendly materials through the use of technological interventions. Finally, NCSCM staff underlined the need for sustainable practices in one's own life for the future generation, which benefit not only the environment but also their own health and well-being. As part of the event, posters and brochures about LiFE mission were displayed around campus, and the students undertook a LiFE pledge and signature campaign.