International Biodiversity Day need to create environmental consciousness: Bhupender Yadav
Shri Yadav proposes setting up People's Biodiversity Registers in every village under Mission LiFE
Union Minister for Environment , Forest and Climate Change and Labour and Employment Shri Bhupender Yadav has said international Biodiversity Day is about need to create environmental consciousness. Speaking at a special function held to celebrate the International Day of Biological Diversity in Mumbai he said we often take the best from the environment but give back waste, with development our consumption increases.
Shri Yadav said if we encourage unnecessary consumption, one earth will not be enough. In the years to come we need to pave way for conservation of biodiversity along with development, he added. Shri Yadav proposed setting up People's Biodiversity Registers in every village under Mission Life.
Also present on the occasion were Union Minister of State for Environment, Forests and Climate Change, Shri Ashwini Kumar Choubey, Secretary for Environment, Forests and Climate Change, Ms. Leena Nandan, Chairman, National Biodiversity Authority Shri C. Achalender Reddy and other senior Central and State government officials.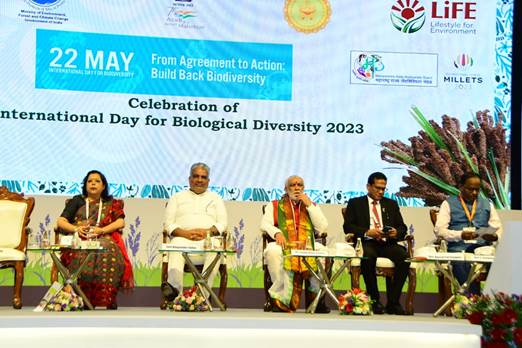 Congratulating the Maharashtra Government for its unique gene bank initiative the Shri Yadav said, "The Western Ghats situated in Maharashtra are rich in biodiversity. There are six National Parks, forty eight Wildlife Sanctuaries and three Ramsar Sites in Maharashtra. Therefore there could not have been a better place to celebrate the International Day of Biodiversity."
Elaborating on the theme for this year's World Environment Day, the Minister stated that the Ministry plans on combining the celebrations of World Environment Day with Mission Life. Noting that nature and environment are very important to our life he added that with Mission Life the Government endeavours to take a 'whole society' approach.
Speaking on the importance of millets Shri Yadav said, "Millets promotes vocal for local. It is a crop that is suited to Indian climate and soil. Along with being drought resistant millets are important to reduce nutritional deficiency. The Biodiversity Board has given special importance to millets. This aims to enable access and benefit sharing with vulnerable communities."
Shri Yadav reiterated that protection of environment is an article of faith for the country. "Prime Minister Narendra Modi has said that we have access to natural resources because our previous generation protected them. And it is our duty to protect them for our future generations. That is the most important message for today".
Addressing the gathering on the occasion, Minister of State for Environment, Forest and Climate Change, Shri Ashwini Kumar Choubey said, "If we protect the environment, the environment in return will protect us. If we don't give back as much as we take from the environment, the balance in nature will be destroyed and we will have to face natural disasters. If nature survives, we survive and the earth survives."
Referring to Millets the Minister further added, "The whole world is attracted to millets today because of India's initiative. Through a mass movement we have to increase the knowledge, demand and supply of millets. We need to create a mass movement and take the knowledge of millets to common man." The Minister gave the mantra of 'Nature, Culture and Literature towards a bright future.
Secretary, Ministry of Environment, Forests and Climate Change. Ms. Leena Nandan stated, "Today is a day we acknowledge that our lives are largely dependent on biodiversity.
Minister for Forests, Government of Maharashtra, Shri. Sudhir Mungantiwar also addressed the gathering through a video message.
Two publications of the Ministry of Environment, Forests and Climate Change namely, 'Biodiversity Heritage Sites of India' and 'Other Effective Area Based Management' were released by the dignitaries on the occasion.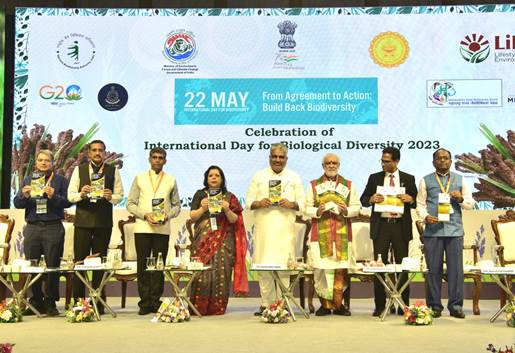 The celebration witnessed the inauguration of a Biodiversity Exhibition with a special focus on Millets by Shri Bhupender Yadav, in the presence of other dignitaries. The exhibition showcased the work of various bodies such as the Forest Department, Government of Maharashtra, State Biodiversity Board, Maharashtra Gene Bank Project, Botanical Survey of India and others. Various public and private organisations involved in promotion of Millets were also part of the exhibition.