Bicycle rally, Tree Counting and Tree hugging Activities mark sustainable Lifestyle programs
World Environment Day (June 5) is an occasion which brings together millions of people across the country for awareness and action for the environment. This year, the Ministry of Environment, Forest and Climate Change, Government of India envisages to celebrate the World Environment Day 2023 with a thrust on the Mission LiFE.
The concept of LiFE, i.e., Lifestyle for Environment was introduced by the Hon'ble Prime Minister, at the World Leaders' Summit in Glasgow at the 2021 UNFCCC COP26, when he gave a clarion call to rekindle a global pursuit to adopt sustainable lifestyle and practices. Mass mobilisation across the country on LiFE are being organized in the run-up to the celebrations.
National Museum of Natural History (NMNH)
NMNH in collaboration with NZP organized bi-cycle rally and an interactive session for students of school and veterinary college; the students pledged to adopt LiFE movement in their day -today- life. The second day of campaign began with the zoo visit of 155 school students from Convent of Jesus and Mary,Ashok Place, Bangla Sahib Marg, New Delhi and 55 students of Pandit Deen Dayal Upadhyaya Pashu Chikitsa Vigyan Vishwavidyalaya Evam Go-Anusandhan Sansthan, Mathura, Uttar Pradesh.
After the visit, the participants were introduced with the objectives of Mission LiFE and a pledge on Mission-LiFE also took place which was then followed by participant's individual pledge towards following the action to promote the Mission LiFE. In addition to these activities, a film on Mission LiFE was screened to the participants.
The day wrapped up with a bicycle rally which aims to promote the theme of save energy under Mission LiFE. The purpose of organising this programme in the National Zoological Park was to create awareness and connect people in order to promote the notion of a Sustainable Lifestyle by staying connected to nature. The programme concluded with Vote for LiFE slogans.
Events by Regional Museums of Natural History
RMNH, Mysore conducted Campus Tree Counting Activity as part of MISSION LiFE (LIFESTYLE FOR ENVIRONMENT) for students and General public and emphasized the need for Eco-friendly LiFEstyle along with Interaction/ Green Talk .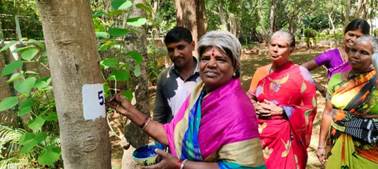 RMNH, Bhubaneswar conducted Campus Tree hugging Activity to know and understand various types of tree barks and insects associated with it as part of MISSION LiFE (LIFESTYLE FOR ENVIRONMENT) for 200 students from Mother's Public School, Bhubaneswar.
Zoological Survey of India
Dr Dhriti Banerjee, Director, ZSI addressed about 120 students of Burdwan University, West Bengal on "Role of Faunal Diversity for sustainable environment" to spread awareness and mass mobilisation on Mission LiFE.