MoS Shipping Shantanu Thakur flags off inaugural shipment from Syama Prasad Mookerjee Port in Kolkata
MoS Shipping Shantanu Thakur flags off inaugural shipment from Syama Prasad Mookerjee Port in Kolkata to operationalise Sittwe Port in Myanmar
Minister of State for Ports, Shipping and Waterways, Shantanu Thakur flagged off an inaugural shipment from Syama Prasad Mookerjee Port in Kolkata to operationalise the Sittwe Port in Myanmar.

External Affairs Ministry spokesperson Arindam Bagchi said in a tweet that the Sittwe port has been developed as part of the Kaladan Multi-Modal Transit Transport Project built under Indian grant assistance.
India-Myanmar relations are rooted in shared historical, ethnic, cultural, and religious ties. India and Myanmar share a long land border of over 1600 km and a maritime boundary in the Bay of Bengal.
The Port has been built under a grant assistance from the Government of India as part of Kaladan Multimodal Transit Transport Project (KMTTP). The Inland Waterways Authority of India (IWAI), as a project Development Consultant for the implementation of Port and IWT components of the work, has successfully completed the work.
MV-ITT LION (V-273) carrying 20,000 bags containing 1,000 metric tonnes of cement will reach Sittwe Port on May 9, 2023.
Speaking on the occasion Shri Shantanu Thakur said, 'The Kaladan Project is a live example of the co-operation and commitments between India and Myanmar. The start of operation of Sittwe port will pave a new avenue for Sittwe to become a maritime hub for Myanmar and enhance the regional connectivity; This strategic and important route will further enhance trade, commerce and economic ties with Myanmar, our North-Eastern States and South Asian Countries.'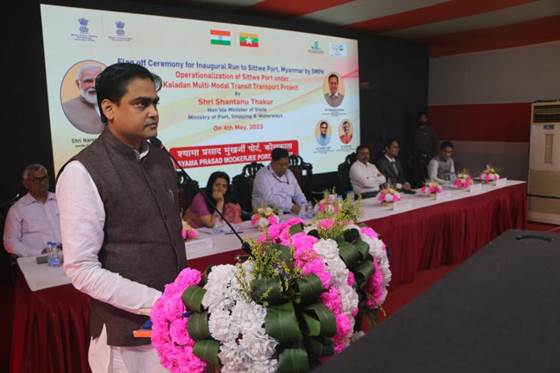 Sittwe Port has been developed under a framework agreement between India and Myanmar for the construction and operation of a Multimodal Transit Transport Facility on Kaladan river connecting the Sittwe port in Myanmar with the state of Mizoram in India. The port connects to Paletwa in Myanmar through an inland waterway and from Paletwa to Zorinpui in Mizoram through a road component. Once fully operationalised, KMTTP will provide alternate connectivity from Eastern coast of India to the North-eastern states through the Sittwe port.
The Port will open up new opportunities for trade and transit from and to Myanmar, particularly the Rakhine State and further enhance trade and commerce between the two countries and the wider region.
During the flagging off ceremony, Shri Tin Moe Consul General, Consulate General of the Republic of the Union of Myanmar in Kolkata, Shri. Sanjay Bandhopadhayay, Chairman, Inland Waterways Authority of India, Shri PL Haranadh, Chairman Syama Prasad Mookerjee Port, Kolkata, Ms. Smita Pant, Joint Secretary (BM) Ministry of External Affairs, Shri Satish Sivan Joint Secretary (DPA-III) Ministry of External Affairs, Shri. Samrat Rahi Dy. Chairman (K), Syama Prasad Mookerjee Port, Kolkata, Shri. AK Mishra Dy. Chairman(H), Syama Prasad Mookerjee Port, Kolkata and other dignitaries were also present.