Ministry of Parliamentary Affairs Celebrates Swachhata Pakhwada
Ministry of Parliamentary Affairs celebrated Swachhata Pakhwada from 16th to 30th April 2023. Under the Swachh Bharat Mission, the important flagship programme of the Government, initiated by the Prime Minister to fulfil the dream of Mahatma Gandhi to make a clean and hygienic India, Ministry of Parliamentary Affairs launched Swachhata Pakhwada during the second fortnight of April 2023. This was as per the Calendar of Swachhata Pakhwada for the year 2023 released by the Department of Drinking water and Sanitation.
The Pakhwada commenced by administering of 'Swachhata Pledge' by Secretary, Ministry of Parliamentary Affairs, Shri Gudey Srinivas, on 17th April, 2023.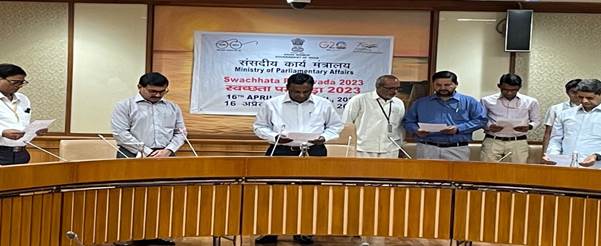 [Shri Gudey Srinivas, Secretary, Ministry of Parliamentary Affairs administering 'Swachhata Pledge']
Cleanliness drive was carried during the Swachhata Pakhwada, and reviewing/recording/weeding of old physical files were done by the employees of the Ministry. To keep the office place neat and clean, old obsolete items were identified for auction, cleaning of electrical switch boards/fans/AC   and whitewashing in all rooms of the Ministry were got done. To spread awareness and importance of Swachhata in one's life, Swachhata Pledge was administered   to students in college/schools by organising special sitting of Youth Parliament.
During the Swachhata Pakhwada, 92 files were reviewed, out of which 32 files were weeded out and Revenue of Rs 67,900/- was generated by auctioning of old obsolete items which were identified during pakhwada.
Swachhata Pakhwada 2023 concluded with prize distribution to top three sections of the Ministry who stood best on Swachhata Parameters during Pakhwada.